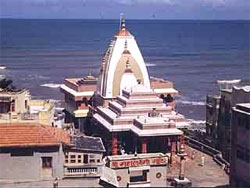 MAHALAXMI TEMPLE
This is one of the old and famous temple in Mumbai. The temple stands in the north of Malabar Hill, near Worli sea-shore. Three idols of goddesses namely Mahalaxmi Mahakali and Mahasaraswati are installed in this temple. Devotees throng here on Tuesdays, Fridays and also during Navratri Festival.
According to the old records the original temple of Mahalaxmi was as old as that of Walukeshwar. But the temple was demolished and destroyed by the Muslim envaders in medieval period.
According to a legend the alive deities disappeared into the sea at the time of invasion and were found by an engineer after a long search in the sea at Worli. The knowledgeable sources say that the engineer from the Prabhu Community, who was incharge of the linkage work between Malabar hill and Worli, undertaken during the tenure of William Hombey, was very much disappointed due to his failure in the work he undertook. The work of constructing rampart was not coming up in any case. It used to slide down again and again. One day, as he was worried about his failure, he had a vision of the three goddesses in a dream. The goddesses asked him to pick up their idols lying at the sea bottom at Worli and build a temple for them. They also graced him for his success in the construction work. The engineer accordingly made a search for these idols and found them at Worli sea. He brought them ouitand installed them for the time being at a place where the temple at present is located. Built a spacious temple for the salvaged idols. The temple stands at the place for more than 100 years with a glorious past and mystic legendary.