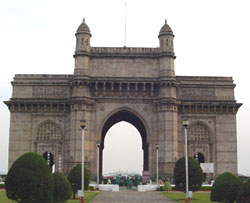 GATEWAY OF INDIA
It is one of the best pieces of architect British have left behind them in Mumbai. The monument was built to commemorate visit of King George V and Queen Marry to India in 1911. This grand, magnificent, attractive and most beautiful land mark stands regally at Apollo Bunder.
The monument was planned and designed by the veteran architect George Wittel. It is built of local yellow sand stone, popularly known as Malad Stone. The construction was completed in 1924.
The monument is built in Indo-Islamic style derived from a Gujrathi style of architect. The height of the central dome of the structure is 83 feet and its diameter is 48 feet in width. Because of its unique location, it can be prominently seen, both from the land and from a far distance in the Arabic sea. Motor launches are readily available here for a mini sea voyage in the surrounding sea water. Tourist can enjoy a short sea ride and see the light house and have a close view of the anchored ships.
After the dusk the sight of the Gateway of India from the sea water is breathtaking as the monument is illuminated in the evening with glowing flood lights. In recent years, after the independence, tall and a magnificent statue of Chhatrapati Shivaji has been installed in the premises. There is an another statue of swami Vivekanand in the vicinity of this land mark.
Not far from this place, are the world famous Elephanta Caves at a distance of 10kms. in the sea. Nearest Rly. Station: Churchagte, C.S.T. (V.T)